Slovak Funeral 2012
Historically, the first international contractual selling Expo Slovak Funeral 2012 which focused on the areas of funeral was held in 8. – 10. November at exhibition grounds in Trenčín.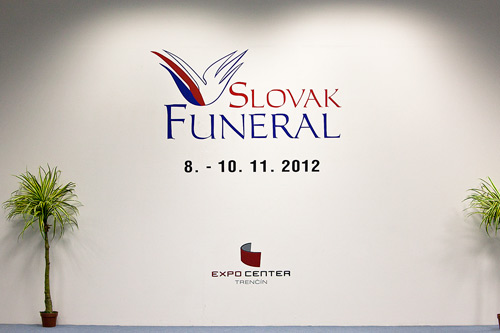 Click on the picture for maximize size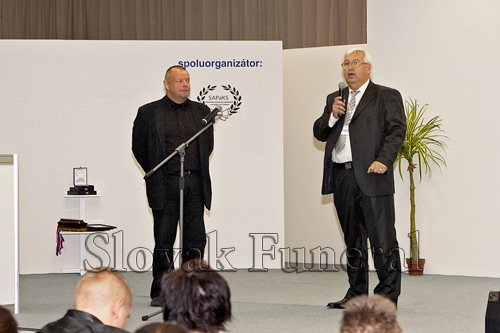 Ivan Vojtek "Tuli" jr., who is the Slovak actor and patron of Slovak Funeral magazine, was a moderator of opening ceremony during exposition. As was mentioned in the speech of Ladislav Stríž, the Slovak Association of Funeral and Cremation Services chairman, the main aim of the exhibition was to show the latest trends in the industry. Similar events are common in Paris, Bologna, and Warsaw or in Riede. "I would like to thank to everyone who came and who were not afraid to show their products. I would like to thank also to Ing. Emil Dobiáš, who take care of us, because until recently
everything which is associated with death and dying was, in this sense in the Slovakia, literally taboo
." L. Stríž "the father of the exhibition."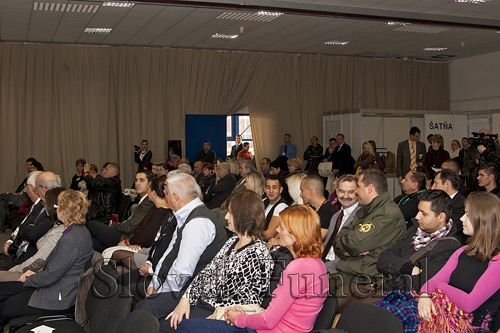 The great interest in this event surprised even the organizators, and thus so a lot of participants were standing at the opening of ceremony. Ing. Emil Dobiáš, CEO and Chairman of Expo Center Trenčín, admitted that organizing of this exposition was not easy: "Finally, I'm glad that this event arose in Trenčín. I hope we will create a tradition of such event in Slovakia." More than 30 exhibitors from Slovakia, Czech Republic, Hungary, Poland and Germany with their products and services arrived to Trenčín.
Guarantor of the exhibition was the main hygienist of the Slovak Republic prof. MUDr. Ivan Rovný, PhD., MPH., who was during an event deputise by Ing. Katarína Halzlová, MPH. (head of the Department of Hygiene and Environmental of the Public Health Authority of the Slovak Republic). "I think that a great thing was made. During the few years profession, to which many people look from a strange point of view, gets to the higher level. I believe, that this exposition will raise the profile of this profession and will improve the level of services in Slovakia," said in her speech Ing. Halzlová and she stressed also the fact, that exposition was held on behalf of the Slovak Association of Funeral and Cremation Services (SAPaKS).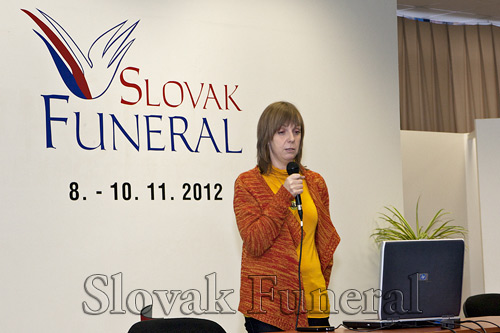 Expert lectures
were prepared for the professionals as well as for the public. For decades we are facing the question, in which direction does the further gardening and architectural design of cemeteries or landscape of burial vault should go. Ing. Denisa Halajová, Phd. presented about garden architecture at cemeteries. After this presentation, MUDr. Tibor Bokor was talking about handling with deceased people and about possible risks of transmission of infectious diseases. Ing. Ján Vlček continued with presentation about records keeping of grave's places and about direct digital geodetic measuring of cemeteries' topography. Finally, the Slovak Association of Funeral and Cremation Services chairman, Ladislav Stíž had presented about Funeral Law no. 131/2010 Collection of Law and about mayors and municipalities position in practice.
Carriages and funeral carriage
Visitors could see the military carriage at the expositions, due to the participation of representatives of the Military History Museum Piešťany, as well as refurbish funeral carriage with horses. This carriage was setting out in certain intervals to streets in Trenčín. The competition about the most beautiful stand of the exposition took place during the Expo. There was also a competition of secondary schools in arrangement. The professional funeral orchestra with their own production, presented by composer and interpreter from Japan was accompanying the whole event.
Feedbacks and reactions
TASR reported about the preparation of exposition even before it takes place and they asked also the SAPaKS chairman, Ladislav Stríž.
More
Media focused their attention from the beginning and at the end, after visiting they bring several reports
Topky.sk
The most widely read daily
Nový Čas
could not miss this awesome event.
Reports appeared also at TV shows. Here you can find that one from TV
Markíza
TVNOVINY.sk, or
this
one about new trends.
Similarly at
Aktuálne.sk
were reported, entitled "When funeral is no longer a taboo."
The modern funeral technologies are reported at the web page
Infolistov
Our colleagues from the Czech Republic documented the exposition at their organization web page
Sdružení pohřebnictví v ČR
.
More
Company LAuK from Žilina brings a rich photo gallery.
More
Other private companies also reported about exposition.
Moser
,
Setora
Votes of thanks are coming from the company
Jana
from Pardubice and from the company
Auto M+V
or company
Karsol
One of the largest suppliers of cremation technology in Poland, the company
JML-Funeris
evaluates this exposition in a very positive manner.